Sunset Gardens Guesthouse
8305 Contant/Crown Mountain Rd.
St. Thomas, Virgin Islands 00802
Office 1-340-227-4429 (Limited Office Hours)
Reservations 1-340-227-4429
Manager Direct 1-340-344-2556
Check In - 3pm - 6pm (Late Night Arrivals Please Notify)
Check Out - If Departing before Office Opens, Please Drop keys in Box next to Office
Office is Closed Noon to 3pm
Early Check Ins - Depending on Availability (Please remember that check out time is 11:30 and we need time to clean your room adequately.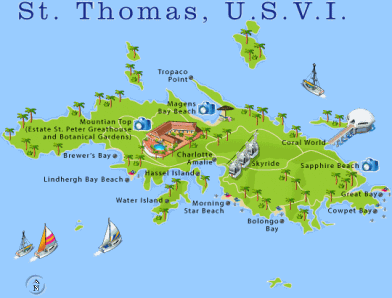 The U.S. Virgin Islands are located in the eastern Caribbean, just 1,100 miles southeast of Miami. The average temperature ranges from 77ºF in the winter to 83ºF in the summer. Rainfall averages 40-44 inches per year. In May and June, the Sahara Dust comes through making hazy days and marvelous sunsets.
St. Thomas is home to one of the most beautiful harbors in the world. As the most visited port in the Caribbean, downtown Charlotte Amalie offers elegant dining, exciting nightlife, world-class, duty-free shopping, and amazing Sunset Cruises. This island also possesses numerous natural splendors, such as stunning views of the Caribbean from 1,500 feet above sea level.